For more, check out our full Coronavirus Resource Library at this link.
In mid-April, ACT announced that they will offer additional summer testing dates, flexible rescheduling, and test-at-home options beginning fall/winter 2020 due to the coronavirus pandemic. This comes on the heels of the College Board's announcement that the June SAT date would be cancelled, that additional future test dates would be added, and that the SAT would also tentatively move to online, at-home testing in the fall if necessary.
Details of ACT's announcement
There will be more options to take the ACT this summer, pending public health guidelines. ACT has added test dates on June 20 and July 25, each one week after the currently scheduled summer test dates.
ACT has not yet formally cancelled the June ACT, but is now offering "Flexible Scheduling" for students to reschedule without fees across all summer testing dates.
ACT will launch remotely proctored at-home computer testing for U.S. students in fall/early winter 2020. This option is planned in addition to the standard in-person fall/winter testing dates in September, October, and December.
It's not yet clear whether or when remote proctoring for at-home testing will be available for international students or for students who normally test through state and school district testing dates. ACT will "evaluate the remote proctoring solution as a possibility" for these students, with more information "available in the coming weeks."
What does this mean for students?
Overall, we recommend that students who are ready to test should aim for July. This includes students currently registered for June. There's still a strong likelihood that a large number of individual test sites will be closed in June. If you want increased peace of mind and a test date that is less likely to shift again, we recommend taking advantage of Flexible Scheduling and changing your June test to July for free.
Students who will be ready to test in the fall may end up in the very fortunate position of being able to test at home regardless of school closures and pandemic-related social distancing measures.
Whatever your circumstances, follow this flowchart to determine the right path for you: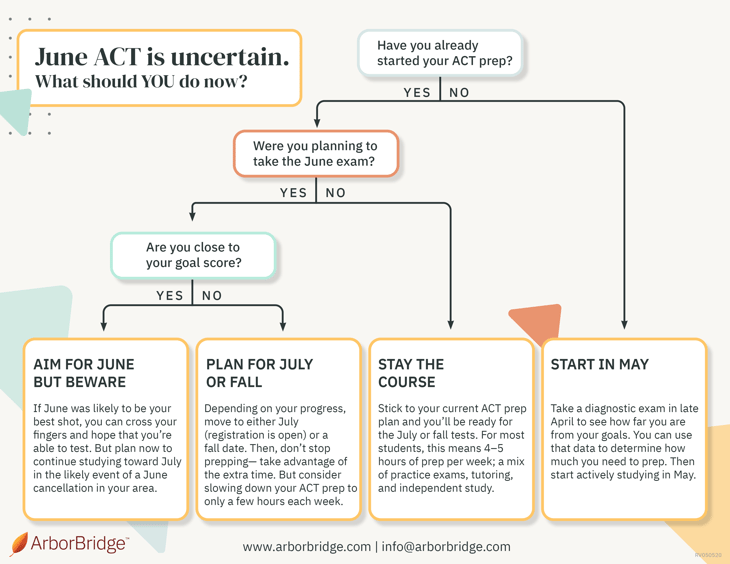 Special consideration for international students and U.S. students who normally test through in-school district test dates: These students' testing options are still the most dependent on when social distancing ends. We hope ACT will expand at-home testing options for all ACT test takers, but students outside the U.S. or students who normally test through in-school district testing dates, may need to continue holding out hope for pandemic-related school closures to end.
Need mored individualized advice?
The recommendations above are generalized plans. If you have specific questions or want a personalized plan, reach out to our experts here. We're happy to help in any way we can.
About ArborBridge
ArborBridge is the global leader in innovative, digital, one-on-one tutoring. With nearly a decade of experience teaching students online, ArborBridge supports students of all kinds: home schoolers, AP students, test preppers, and more. Our tutors specialize in creating personalized plans and in providing compassionate support for students and families.