For more, check out our full Coronavirus Resource Library at this link.
On April 15, the College Board announced that the June SAT and SAT Subject Test administration is cancelled worldwide due to the coronavirus pandemic. A September test date has been added, and there's a back-up plan to transition to an online, at-home SAT if necessary. Here's what we know so far:
Future testing options
An additional worldwide SAT administration on September 26 ensures that in the U.S., there will be an SAT offered every month between August and December 2020. Internationally, an SAT will be offered for each of those months except November, and the College Board is exploring an additional international administration.

Registration will open the week of May 26. Class of 2021 students who don't yet have an official SAT score on records and students originally registered for June will be given 1-week priority access to sign up for the August, September, and October SATs. The College Board will contact you directly with the exact date when registration opens for you.

For the most common Subject Tests, students can expect multiple fall testing opportunities like usual. For Subject Tests only offered a couple of times a year, the College Board confirmed that it will reschedule those June Subject Tests.
To top it off, the College Board revealed that an online, at-home SAT will be unveiled if schools don't re-open in the fall. They cite their move to online AP exams as a sign that they can handle this transition smoothly if necessary.
What does this mean for students preparing for the SAT?
Your next steps will depend on where you are in your testing plan. We've created an easy chart to figure out what you should do.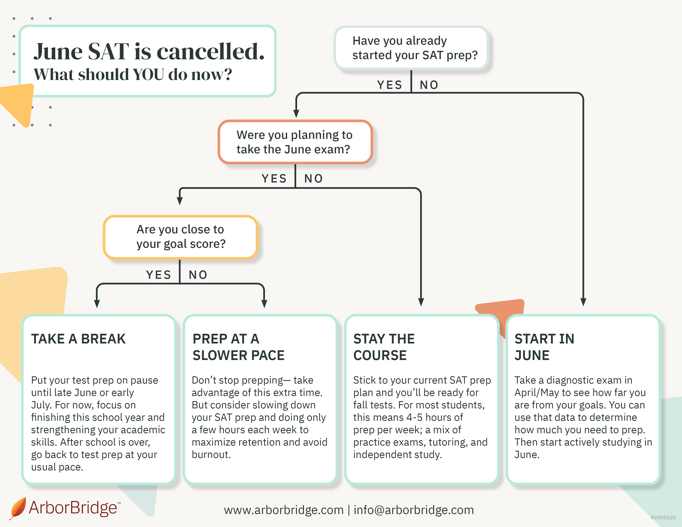 What does this mean for students preparing for SAT Subject Tests?
The first step is to ask their counselors if you still need Subject Tests. Elite schools, including Harvard and MIT, have already adjusted their Subject Test recommendations so that students affected by test cancellations are not disadvantaged if they are unable to submit Subject Test scores.
If you still plan to take Subject Tests, the good news is that you should have one or two opportunities to complete them before Early Decision deadlines—and fit in at least one general SAT if needed. The goal for you will be to finish your coursework for the year, and then begin reviewing course material 6-8 weeks before your Subject Test in the summer or fall.
All students should talk to their counselors or tutors for more specific advice.
Every student's situation is unique, depending on SAT vs. Subject Test plans, target colleges and universities, goal scores, school circumstances, and other factors. Reach out to your counselor (or tutor if you have one) to talk about what next steps make the most sense for you.
Or reach out to our experts here for more individualized advice.
About ArborBridge
ArborBridge is the global leader in innovative, digital, one-on-one tutoring. With nearly a decade of experience teaching students online, ArborBridge supports students of all kinds: home schoolers, AP students, test preppers, and more. Our tutors specialize in creating personalized plans and in providing compassionate support for students and families.