With the first administrations of the digital SAT on the horizon, sophomores in the United States should start looking ahead at their testing options.
For example, when is the best time to sit for an official exam? Is it better to finish testing before the SAT goes digital? Is it safer to focus on the ACT?
To get started, check out our recommendations and download our decision tree to help guide your planning. Then, reach out to us for more individualized advice.
Start with your top priority: test date or test format.
Look ahead at your schedule for next year. Your opportunities to sit for the SAT/ACT could be limited if you have important commitments that conflict with key test dates. In that case, you'll want to start by identifying the best times during the year when you're able to focus on preparing for and taking exams. Ideally, you'll leave yourself enough room to sit for 2-3 official exams to maximize your point increases and continue to build familiarity with the test over time.
If you have more flexibility to prep and sit for exams at any point during the year, you can instead focus on the test format and testing experience itself. Depending on your test-taking style, you might generally perform better on paper exams than on digital exams, or the length and structure of the exam might make a significant difference for you. Maybe the shorter digital SAT is a great fit for you because of your lower test-taking stamina. Or maybe the ACT is well suited to your reading speed. There's a lot to think about, so taking diagnostic exams is a great place to start.
What should you consider next?
Now that you've identified your top priority, you can evaluate the best options available to you.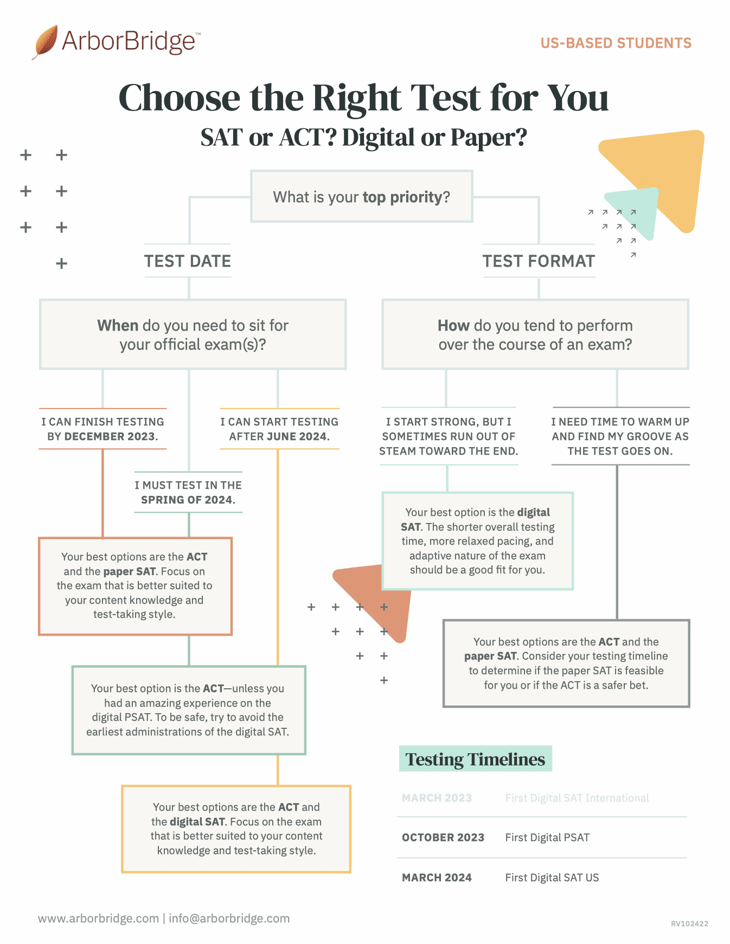 Test Date:
Can you finish testing by December 2023? If so, your best options are the paper SAT and the ACT (also a paper exam). To make your final decision, focus on the exam that is better suited to your content knowledge and test-taking style. As we've said, diagnostic exams are an excellent place to start.
Do you need to test in the spring of 2024? If so, your best option is the ACT—unless you happen to have an amazing experience on the digital PSAT in the fall of 2023. The goal is to avoid the first couple administrations of the new digital SAT to allow the College Board and site administrators time to work out any hiccups that naturally happen when administering a new test.
Can you start testing after June 2024? If so, your best options are the ACT and the new digital SAT. To make your final decision, focus on the exam that is better suited to your content knowledge and test-taking style. Again, start by taking diagnostic exams.


Test Format:
Do you tend to start strong but sometimes run out of steam toward the end of a test? If so, your best option is the digital SAT. The shorter overall testing time, more relaxed pacing, and adaptive nature of the exam should be a good fit for you.
Do you need time to warm up and find your groove as the test goes on? If so, your best options are the ACT and the paper SAT. Your diagnostic exam results should point you in the right direction. You'll also need to consider your testing timeline to determine if the paper SAT is feasible for you (if you can wrap up testing by December 2023) or if the ACT is a safer bet. Or you may even decide to prep for the paper SAT first and then, if needed, either switch to the ACT in the spring or pause to prep for the digital SAT after the first administration hiccups have been overcome.
Keep in mind that these recommendations are just a starting point. Your final decision will depend on several factors, such as your diagnostic SAT/ACT scores, the specific test dates available in your country, your individual testing goals, and more. For help navigating these nuances, reach out to us here.
Need more individualized advice?
The recommendations above are general suggestions. If you have specific questions, reach out to our experts here. We're happy to help in any way we can.
About ArborBridge
ArborBridge is the global leader in innovative, digital, one-on-one tutoring. With nearly a decade of experience teaching students online, ArborBridge supports students of all kinds: home schoolers, AP students, test preppers, and more. Our tutors specialize in creating personalized plans and in providing compassionate support for students and families.