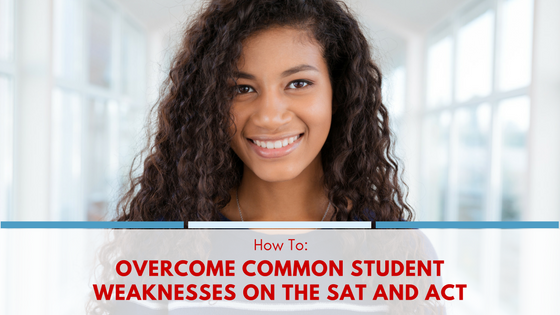 The test prep experts at ArborBridge are excited to announce our newest blog series, How to Overcome Common Student Weaknesses on the SAT and ACT.
While every student is unique in his or her strengths and weaknesses, there are certainly still noticeable trends among all students who sit for the SAT or ACT. Through heavy analysis of diagnostic exams and practice tests throughout ArborBridge student programs, our team has put together an extensive list of the most common weaknesses seen on both tests, and more importantly, how to overcome them.
What can you expect to read about?
Each post highlights one specific student weaknesses then breaks down a) how to recognize the problem at hand, b) ways to effectively approach the problem, and c) sample questions students might see on the exam relating to the problem.
We have already published three posts of this series! In case you missed them:
How To: Avoid Running Out of Time on the ACT Reading Section
How To: Identify Relevant Geometry Equations in ACT Math
How To: Deal with Rhetoric Questions on the ACT English Section
Who will be writing these posts?
Meet Owen!

Owen earned a B.A.from the University of Pennsylvania, where he majored in Philosophy, Politics, and Economics. Owen has experience tutoring in a variety of academic areas, but he specializes in the SAT, ACT, and GRE, as well as Math and Physics SAT Subject Tests. His background and test prep experience bring a valuable component to ArborBridge's curriculum and program directors.
How often will these posts be published?
Expect to see two posts a week, normally on Mondays and Wednesdays. Please note, this schedule may be affected by holidays and/or travel.
How can I follow this blog series?
Great question! You can receive updates by subscribing to ArborBridge's Weekly News Flash. By subscribing, you'll get the most recent posts from the How to Overcome Common Student Weaknesses blog series plus the latest headlines in the news surrounding test prep, college admissions, edtech, and more.
Subscribe to receive our Weekly News Flash!