While homework may seem like another way for your teachers to torture you, it actually plays an important role in ensuring that you retain the material you learn in class. Doing the assigned homework for your SAT or ACT tutoring is especially crucial in maximizing your score improvement.
Mastering and retaining mastery
Take the ACT Math section, for example. There are over 300 math concepts you will need to have mastered in order to achieve a perfect 36 on the ACT. Mastering and retaining mastery of three new math skills usually results in a 1-point improvement on the Math section. Since each topic takes about 20 minutes of tutoring time, you can usually expect a little more than one point improvement for every hour of math tutoring. However, real improvement requires that you both master AND retain those topics. The best way to ensure mastery and retention is to review material after the session. If you don't review the material after the session, you will spend valuable tutoring time down the road reviewing the old material as opposed to learning new material.
How does this impact your score?
Our data show that students who complete 100% of their homework gain, on average, twice as many of the points available to them as students who only complete 0-20% of their homework. Points available is the difference between a student's starting score and the highest possible score on that section. For example, a student starting at a 25 on the ACT has 11 points available to earn. A student starting a 32, however, only has 4 points available to earn. Students who completed 100% of their homework gained, on average, 50% of the points available to them. That means that a typical student starting at a 24 (having 12 points available) would end with a 30 on the official exam.
Students who completed 0-20% of their homework, however, gained on average 25% of the points available to them. This means a student starting at a 24, who received the same tutoring but who didn't complete his or her homework, would end up with a final average score of a 27. Why? Because students who don't complete their homework don't retain the material and strategies they learned early on and spend the second half of the tutoring program reviewing the material covered in the first half. Students who do their homework, however, spend the second half of the tutoring program continuing to learn new material that boosts their score even more. It is important to note that this trend is true at ALL scoring ranges. No matter what your starting score, if you do your homework, you will get more out of your tutoring program.
How to maximize your ArborBridge tutoring experience
1) Set up a consistent review schedule. Check out the diagram below, which demonstrates how your retention of a new topic improves with each subsequent review.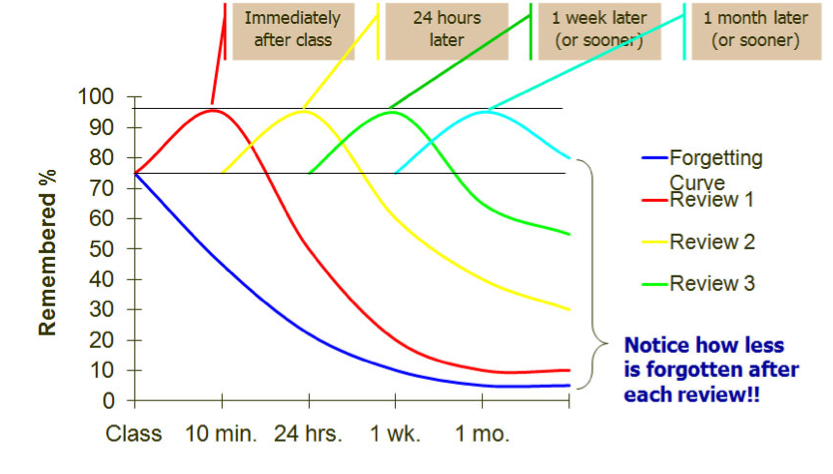 Simply reviewing your notes right after class, or even a week later, isn't enough to drastically improve your retention of the topic. We recommend the following schedule:
Read through your tutoring notes the day after your session.
Complete your homework no more than three days after your session.
20 minutes before your next session with your tutor, review your homework again and make sure you can still solve all the questions and remember the strategies. If you can't, bring it up first thing in your next tutoring session.
Practice solving your homework the way you learned and don't revert to old habits. Old habits can be hard to break, so it is crucial that you practice solving using the strategy your tutor taught you.
Make sure you take the time to sit down and solve. You don't practice your free throw skills by watching videos of someone else shooting free throws; you need to get your pencil moving the same way you will on test day!
2) Take your practice tests on schedule. The most important part of any new material or strategies you learn in a tutoring session is practicing using them in the context of an actual exam. ArborBridge exam schedules are set up to allow you to practice the skills you learn in a tutoring session in a manageable way. Altering testing habits and using new information is challenging, and you can only practice using so many new skills in the context of an exam at once. If you wait too long to take your practice exams, you will have too much new information to properly apply it to the exam. If you take them too frequently, you won't have enough new skills to make the practice test worthwhile.
For more about the importance of taking practice tests, see Part 2 of this blog, coming out soon!
--
You might also like:
Why You Shouldn't Worry Too Much about the Changes to ACT Math and Science
Is the ACT Math Section Really Harder?
Cracking Myths about the SAT and ACT: What's True and What's False?