Find out why international students should consider switching to ACT prep in light of this announcement. Read our blog post here.
This morning, the College Board announced they are reducing the number of times the SAT is administered outside the United States.
The decision comes after multiple cheating incidents overseas, particularly after the new SAT was released last spring. The College Board has made a couple statements about taking steps to address this matter. Last September, chief executive David Coleman said the College Board planned to "scale back its reuse of tests". So far there is no mention of whether or not the decision to cut internationally administered tests involves ending the practice of reusing test forms.
The College Board also mentioned the new security measures include "providing law enforcement and other government agencies with the names of test prep companies and individuals suspected of stealing test materials," according to Reuters.
Starting this fall, the number of SAT test administrations overseas will be cut from six tests a year to four. The SAT will only be offered in October, December, March, and May—this affects the 2017-18 and 2018-19 school years.
It is important to note that although there have been reports of this June's SAT administration (2017) being cancelled, it is not confirmed just yet. We are waiting for the College Board to announce the exact test dates that will be cut. When we spoke to the College Board, they could not confirm. Representatives said students could still register for that test date and if it was eventually canceled, students would be moved to a new test date. We will continue to monitor announcements and update as more becomes available.
UPDATE: February 23, 2017
In an official announcement made by the College Board, it has been confirmed that the June 2017 SAT international administration will be cancelled. However, students will still be able to sit for the SAT Subject Tests in June. If you or anyone you know is registered for the June 2017 SAT, you should be receiving a notification from the College Board shortly.
Read the full College Board announcement here.
As part of its official announcement, the College Board highlighted an investigation of student scores from the January 2017 international administration. The test featured some material that also appeared in the U.S. on a previous exam. Some students who sat for the January 2017 international SAT administration have already had their scores canceled, and more score cancellations may be coming.
As far as eliminating the reuse of exams (an action David Coleman has promised to make in the future), the College Board only stated that they would only "reduce reuse", which some critics believe isn't enough to thwart cheating.
We put together the tables below with the 2017-18 U.S. and (updated) international SAT and SAT Subject Test administrations: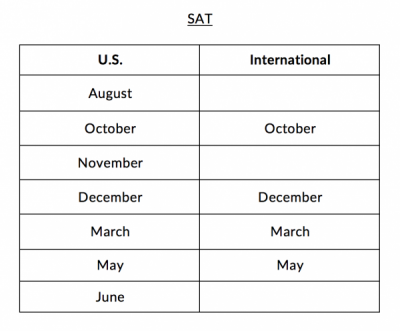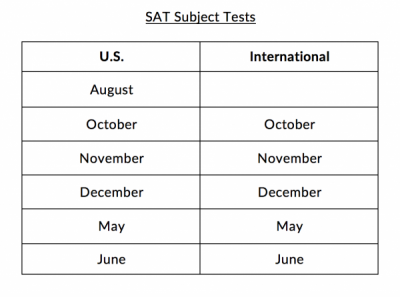 Find out why international students should consider switching to ACT prep in light of this announcement. Read our blog post here.
Want headlines like this delivered straight to your inbox? Subscribe to our Weekly News Flash and receive updates and announcements every Tuesday.