While many still think of the ACT as a traditionally paper-based test, the computer-based version of the exam will eventually become the reality for students around the world. ACT introduced its computer-based test (CBT) to international students in 2018 and, despite postponing its U.S. rollout due to COVID-related disruptions this year, still plans to begin offering computer-based testing to U.S. students in the future.
As ACT continues to move deeper into the world of digital testing, a growing percentage of test-takers will sit for the CBT each year. With that in mind, here's a closer look at what's the same and what's different between the paper-based and computer-based versions of the exam.

Paper vs. CBT: what's the same?
The content and structure of the exam remain exactly the same whether you're testing on paper or on a computer.
Similarities include
the order of the sections (English, Math, Reading, Science, and Writing)

the content of each section

the number of questions on each section

the amount of time you have on each section




the scoring system (section scores and a composite score on a 36-point scale)
Paper vs. CBT: what's different?
Beyond the amount of time it takes for students to receive multiple-choice scores—typically at least 10 days for the paper test and only 2 business days for the CBT—the major difference between the two versions has to do with the test-taking experience itself.
Students taking the exam on paper can annotate and write out their work directly in the test booklet, bubbling in their answers by hand on a separate page. Working out of a physical test booklet also makes it easier for students to answer questions out of order, flipping back and forth between pages as needed.
Students taking the computer-based test will see one question per page, scroll up and down to read a passage, and click a "Next" button when they are ready to move on to the next question. This makes it more challenging for students to answer questions out of order or make quick guesses if they run out of time at the end of a section. Annotating on the screen is not possible, and students take notes and write out their work on a separate whiteboard provided to them at the test center.
Additionally, students taking the CBT have access to several on-screen tools:
Highlighter (to highlight words and phrases while you read)
Answer Eliminator (to cross out answer choices as you narrow down your options)
Answer Masker (to hide the answer choices so you can predict the right answer before getting distracted by traps)
Line Reader (to focus on a single line of text by blocking out surrounding lines)
Magnifier (to enlarge part of a graph or image)
This means that in order to perform your best on test day, it's important to understand how to adjust your test-taking strategies and make the most of the CBT tools.
For this reason, ArborBridge has developed ACT lessons and practice sections in the CBT format. Students learn ACT content and strategies while continuing to master the CBT format itself—through clickable radio buttons, highlighted text, and more. Here's an example of a lesson a student might cover with her tutor: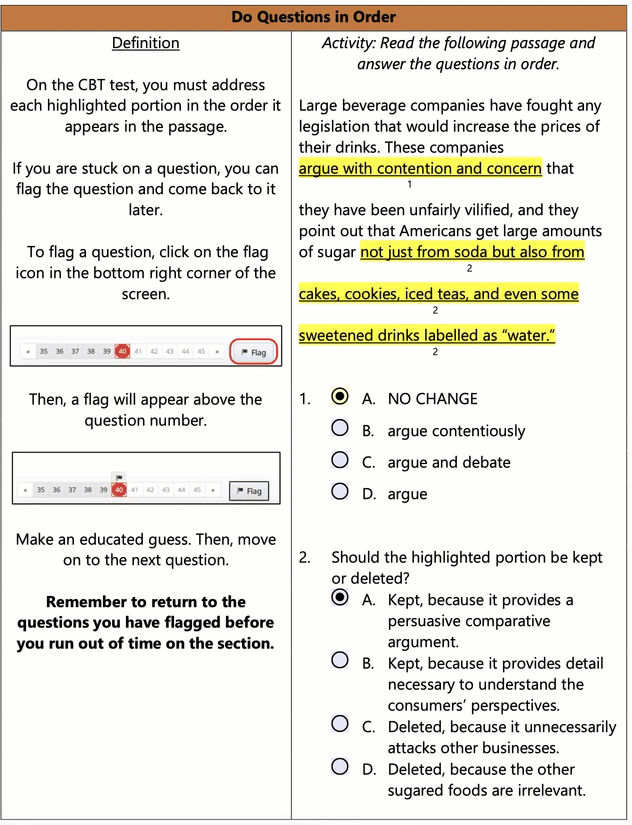 In this way, a student can work on targeted skills during her tutoring sessions while continuing to strengthen the CBT-specific habits and strategies that will ensure her success on test day.
To learn more, reach out to us here.
Need more individualized advice?
The recommendations above are general suggestions. If you have specific questions, reach out to our experts here. We're happy to help in any way we can.
About ArborBridge
ArborBridge is the global leader in innovative, digital, one-on-one tutoring. With nearly a decade of experience teaching students online, ArborBridge supports students of all kinds: home schoolers, AP students, test preppers, and more. Our tutors specialize in creating personalized plans and in providing compassionate support for students and families.