With computer-based testing on the rise, understanding how to study effectively for digital exams is now more important than ever. ACT has offered a computer-based test (CBT) to international students since 2018, and a CBT rollout remains on the horizon in the U.S. as well.
Students accustomed to the paper-based version of the ACT might assume they can prepare for the computer-based version in the exact same way. After all, the content, timing, and number of questions are the same. However, studying for the CBT the same way you'd study for a paper-based test is one of the biggest mistakes you can make. The distinct format of the CBT requires you to adjust your test-taking techniques in order to perform at your best level.
This means practicing on a computer with materials that mimic the format of the actual exam. Here's why—and how to do it.
Why studying the right way matters
As the saying goes, it's important to practice like you play because you'll play like you practice. Your strategy should reflect the format in which questions will be presented to you and the tools you'll have access to on test day. The more aspects of test day you can rehearse ahead of time, the more comfortable you'll be when that day comes.
Here at ArborBridge, we've seen that practicing the right way with the right resources can make a huge difference in how you perform on test day. Our students who sat for the very first CBT in September 2018 had less time and fewer opportunities to master the CBT format—because ACT had released its only CBT practice exam just a few months prior—and some saw unexpected score fluctuations as a result. A number of students reported that transitioning to the actual CBT format had effects on their pacing and overall approach to each section.
Since the initial CBT rollout, our students who have worked off of CBT materials from day one have reported feeling more confident on test day—and their official scores back that up. In fact, our commitment to preparing students for an authentic test day experience is one of the reasons why 9 out of 10 ArborBridge students score in the top 5% of test takers worldwide on the ACT and SAT.
Students who use CBT resources to study have opportunities to not only get used to reading on a screen for extended periods of time but also practice
using the on-screen timer to check their pace

taking effective notes on a whiteboard

making CBT-specific decisions about the order in which to tackle questions

implementing the best on-screen tools for each section.



How to study for the CBT
The key to studying for the computer-based ACT is to work with actual CBT materials as much as possible. One challenge students face when preparing for the CBT is that ACT has released only two full-length practice exams that follow the exact format of the official exam. For that reason, it's a good idea to regularly use and revisit one of the practice exams to familiarize yourself with the CBT tools and layout, while saving the second practice exam for a test run closer to your official test day.
In the meantime, stick to those same strategies as much as you can when using other resources, such as ACT's additional online practice tests. While these practice materials do not perfectly mirror the official CBT format, they can still serve as good practice as long as you stick to your CBT strategies and continue to revisit the actual CBT practice exams along the way.
Beyond that, ArborBridge students have access to CBT-style lessons and practice sections that teach them how to make the most of CBT tools. Students learn ACT content and strategies while continuing to master the CBT format itself—through clickable radio buttons, highlighted text, and more. Here's an example of a lesson a student might cover with her tutor: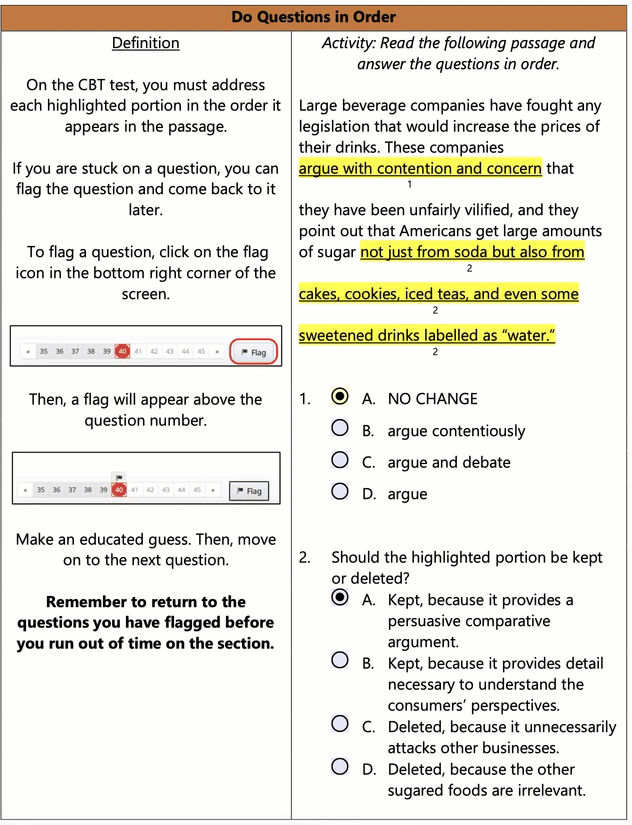 In this way, a student can work on targeted skills during her tutoring sessions while continuing to strengthen the CBT-specific habits and strategies that will ensure her success on test day.
To learn more, reach out to us here.
Need more individualized advice?
The recommendations above are general suggestions. If you have specific questions, reach out to our experts here. We're happy to help in any way we can.
About ArborBridge
ArborBridge is the global leader in innovative, digital, one-on-one tutoring. With nearly a decade of experience teaching students online, ArborBridge supports students of all kinds: home schoolers, AP students, test preppers, and more. Our tutors specialize in creating personalized plans and in providing compassionate support for students and families.