Last week, ETS released more details and practice materials for students interested in the TOEFL Essentials test. You can register for the new test—which is about half the length and cost of the TOEFL iBT test—starting on June 17. The first test date is August 21, and future testing appointments will be available 1 day a week (24 hours a day).
Thinking about taking the TOEFL Essentials test? Here's everything you need to know.
How is the TOEFL Essentials test structured?
The TOEFL Essentials test fits 4 sections (Listening, Reading, Writing, and Speaking) and a personal video statement into just 1.5 hours.
Because the TOEFL Essentials test is an adaptive test—which means questions will adjust to the test-taker's skill level along the way—the number of questions and amount of time per section can vary. Here's what you'll encounter on test day:
Listening:

30-45 questions
21-34 minutes

Reading:

30-45 questions
22-33 minutes

Writing:

15-19 questions + 2 tasks
24-30 minutes

Speaking:

3 tasks with 19 responses
13 minutes

Personal Video Statement:

2 questions
5 minutes
Note that this part of the test is unscored.
What's on each section?
Listening: This section measures your ability to understand conversations and talks in academic and non-academic settings. You will listen to and answer questions about conversations between two speakers, academic-related announcements, and academic talks (which may be about science, history, art, business, or other subjects).
Reading: This section measures your ability to understand academic and non-academic texts. You will answer vocabulary questions, questions about non-academic texts you might see in everyday life (such as emails, posters, menus, social media posts, and news articles), and questions about academic texts (which will include both short passages and information presented in tables). The biggest shift from the TOEFL iBT is that the TOEFL Essentials test includes questions on synonyms.
Writing: This section measures your ability to write, review, and edit texts for different communication purposes in everyday and academic situations. You will be asked to rearrange words and phrases to build grammatically correct sentences, write an email for a specific purpose (such as extending an invitation), write a social media post about a photo, and state an opinion in an online class discussion forum.
Speaking: This section measures your ability to speak and communicate effectively in a variety of situations. You will read aloud one part in a dialogue that takes place in an everyday or campus situation, repeat a series of eight sentences about an academic or social scenario, and participate in a simulated conversation with a pre-recorded interviewer.
Personal Video Statement: The unscored personal video statement requires you to answer two questions about yourself and your opinions. This part of the test is meant to allow you to show your personality and share additional insights about yourself.
The first question is always, "What would you like to tell people about yourself?"
For the second question, you get to choose one of two topics and provide your opinion on it.
You will have 30 seconds to prepare and 2 minutes to respond to each question. If you're not happy with a response, you have the option to rerecord it.
How is this different from the TOEFL iBT?
While ETS says the TOEFL iBT will remain the "gold standard," the TOEFL Essentials test is a more accessible and affordable option. The TOEFL Essentials test is not only shorter but also cheaper—it will cost between $100-$120, about half the cost of the TOEFL iBT test, which costs $225 in the U.S. (TOEFL fees vary by country.)
There are also differences in the content and delivery of the tests: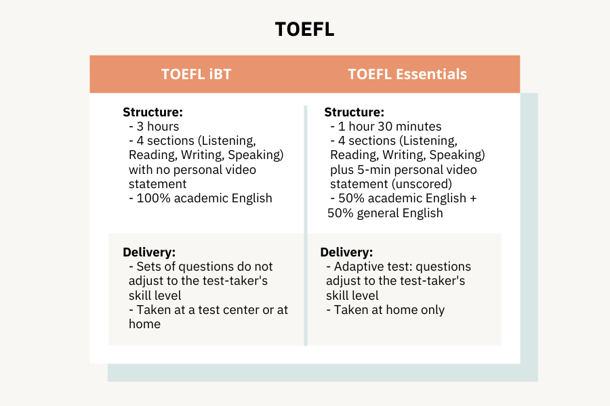 Finally, the two exams approach scoring a bit differently. The tests are scored along different scales, with the TOEFL Essentials test scoring each section from 1-12 and then averaging the four sections. Section scores on the TOEFL iBT range from 0-30.
The TOEFL Essentials test also offers a new "Instant Scoring" feature. You'll be able to see your unofficial Listening and Reading scores at the end of the test, which can be helpful as an early indicator of your performance. You'll receive your full scores 6 days after the exam, just like you would for the TOEFL iBT.
Which version of the TOEFL should I take?
First things first, it's important to figure out which version(s) of the TOEFL the universities you're applying to will accept. Keep in mind that because the TOEFL Essentials test is brand new, it may take some time for universities to decide whether to accept TOEFL Essentials scores and to make changes to their admissions policies if so. (For what it's worth, when ETS surveyed 250 institutions, 95% indicated they'd be likely to accept the TOEFL Essentials test.)
For the immediate future, if both tests are an option for you, we recommend sticking with the TOEFL iBT. Most schools have yet to confirm that they'll accept the TOEFL Essentials test, and ETS won't provide universities with guidance on setting score requirements for the new test until June. This means TOEFL Essentials test-takers will not be able to set clear score goals for themselves right away. Furthermore, the relative lack of practice materials for the TOEFL Essentials test will make it tougher for students to prep for this exam.
If you're planning to test later in the year or next year, though, the TOEFL Essentials test may appeal to you if you prefer a faster-paced, more interactive testing experience. It allows you to show both your academic English skills and your general English skills. Because it is an adaptive test (and a shorter test), you have a good chance of doing well on it if you tend to start strong.
The TOEFL iBT, on the other hand, focuses solely on showcasing your academic English skills. Its length and traditional format may be a better fit for you if you tend to need time to warm up and settle into the rhythm of the test.
How should I prep for the TOEFL Essentials test?
So far, ETS has released only 3 official practice tests, which you can access here.
A personal tutor can also help you create a test prep plan and guide you to your goal score. To start working with a TOEFL expert, contact us here.
Need more individualized advice?
The recommendations above are general suggestions. If you have specific questions, reach out to our experts here. We're happy to help in any way we can.
About ArborBridge
ArborBridge is the global leader in innovative, digital, one-on-one tutoring. With nearly a decade of experience teaching students online, ArborBridge supports students of all kinds: home schoolers, AP students, test preppers, and more. Our tutors specialize in creating personalized plans and in providing compassionate support for students and families.