Join ArborBridge's Weekly News Flash and receive the latest headlines in test prep and college admissions every Tuesday
We are committed to providing you with the most up-to-date resources and announcements from the college admissions testing landscape. Here are some of the top headlines from this past month:
Support Continues for Universal, Free Testing
Summary: Brookings posted a piece citing reports we have covered in past weeks, showing that when states give students the SAT or ACT for free on a school day, states uncover a number of underserved youth that are college eligible. As the author notes, "Sitting for the test is also required, which means that students can't opt out because of low expectations—whether theirs or those of the adults around them." The article details success in Michigan, Illinois, and Colorado.
What this means: Universal, free testing is one key to overcoming many of the socio-economic factors that limit the diversity of college-bound Americans. Though this argument isn't new, it does shed light on the reasons that states like Illinois may want to expand their testing series to younger students: create a culture of test taking, identify students with college potential as early as possible, and get students the resources they need early in high school to excel when it counts in 11th grade.
ACT/SAT For All: A Cheap, Effective Way to Narrow Income Gaps in College (Brookings)
College Board Releases Full Stats on 2017 AP Testers
Summary: The College Board released its annual report on AP performance for the 2016–2017 school year. The two biggest storylines were 1) AP participation continues to grow, but racial disparities persist, and 2) AP Computer Science Principles (APCSP) dramatically increased the number of students taking an AP computer science course last year, especially among minorities and females. For those who really want to dive into the stats, a few key ones to note:
OVERALL
"More than 1.17 million students in the class of 2017 took 3.98 million AP Exams in public high schools nationwide."
More than 700,000 students scored 3 or higher on at least one AP exam (nearly 23% of all high school graduates from public high schools in the U.S.).
Massachusetts is the state with the highest percentage of students taking and earning 3s. While Mississippi is the lowest.
Racial demographics (taken from the College Board report)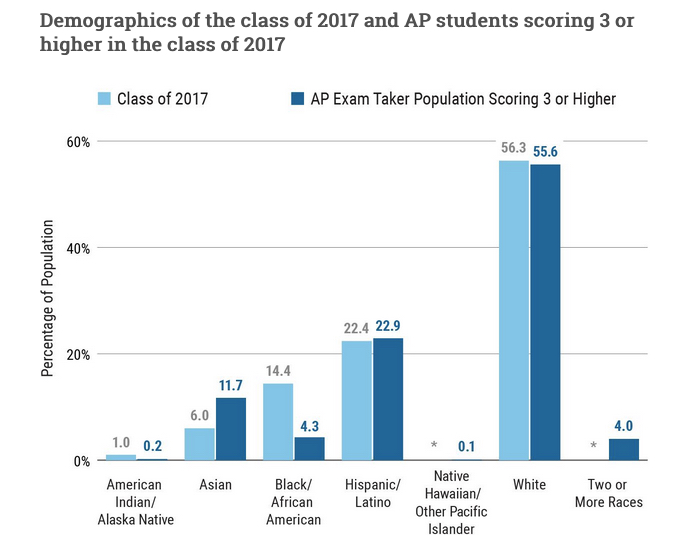 ​COLLEGE CREDIT FOR AP COURSES
"In 2017, 65% of AP credit policies at four-year public and private colleges and universities granted credit for AP Exam scores of 3 rather than requiring higher scores."
"There were approximately 1,700 new or improved AP credit policies enacted in 2016­–17."
FUNDING
After the federal government stopped funding AP exams for low-income students last year, states that stepped in to provide the funding saw a 7% increase in number of students who took AP exams. Those that did not saw only a 4% increase.
EXAM SPECIFIC
The three most popular AP exams in 2017 were English Language, U.S. History, and English Literature.
Nearly 104,000 students took an AP computer science exam in 2017 compared to approximately 58,000 the year before. The dramatic change was due to the release of the new APCSP course last year.
Almost 75% of all students who took the APCSP exam earned a 3 or higher.
The number of female students earning a 3 or higher on a computer science exam doubled since last year. The number tripled for Latino and African American students. All increases were due to APCSP.
What this means:
There's not much new or surprising in this data. We already had hints from earlier CB press releases that APCSP participation was very high, especially among minority and female students. The new data merely adds their test scores, though it's great to see the positive results! Expect the trend to continue as the number of schools offering APCSP nearly doubled in 2017–2018.
The real test will be whether those CSP students continue to study computer science by moving into the much more advanced AP Computer Science A course after taking APCSP. That data won't be available until summer at the earliest.
If we were to add private schools to the data on racial demographics we might see even greater disparities. Private school students are overwhelmingly white in the U.S. and many participate in AP programs and do well on AP exams.
It's great to see that even with federal funding cuts, students continue to participate in the AP program, though supplementary funding clearly helps increase participation.
More Students than Ever Are Participating and Succeeding in Advanced Placement (College Board)
Understand the Class of 2017 Results (College Board)
AP Program Participation and Performance Data 2017 (College Board)
Record Numbers Take Advanced Placement Courses (Inside Higher Ed)
AP Results: More Test-Takers—But Achievement Amongst Minority Students Staggers (EdSurge)
Want more stories like this delivered straight to your inbox? Join ArborBridge's Weekly News Flash and receive the latest headlines in test prep and college admissions every Tuesday!