Students who read regularly tend to have the easiest time with the Reading sections of the SAT and ACT. Reading a little every day can go a long way toward boosting your verbal skills by building your fluency, comprehension, and vocabulary.
ArborBridge's SAT & ACT Recommended Reading List (below) is a great place to start. Exploring the resources on this list, curated by the ArborBridge Instruction Team, will prepare you for the types of passages you'll encounter on the SAT and ACT Reading sections.
Click here to download your reading list.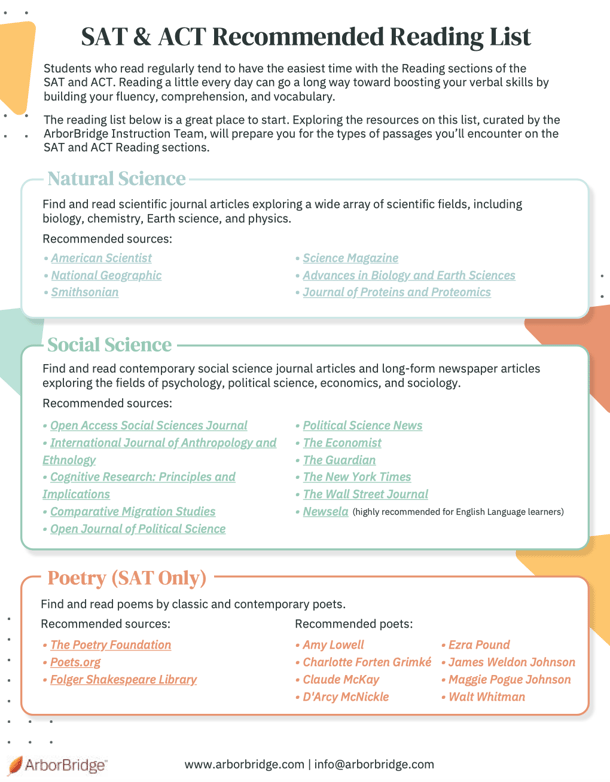 Natural Science
Find and read scientific journal articles exploring a wide array of scientific fields, including biology, chemistry, Earth science, and physics.
Recommended sources:
Social Science
Find and read contemporary social science journal articles and long-form newspaper articles exploring the fields of psychology, political science, economics, and sociology.
Recommended sources:
Newsela

(highly recommended for English Language learners)
Poetry (SAT Only)
Find and read poems by classic and contemporary poets.
Recommended sources:
Recommended poets:
Amy Lowell
Charlotte Forten Grimké
Claude McKay
Ezra Pound
James Weldon Johnson
Maggie Pogue Johnson
D'Arcy McNickle
Walt Whitman
Literary Fiction
Find and read short stories and novels by reputable authors. In many cases, you can find great books available for free on your Kindle, iPad, iPhone, computer, or eReader.
Recommended books:
The Curious Incident of the Dog in the Night-Time (Mark Haddon)
Exit West (Mosin Hamid)
The Museum of Extraordinary Things (Alice Hoffman)
Kite Runner (Khaled Hosseini)
Never Let Me Go (Kazuo Ishiguro)
The Remains of the Day (Kazuo Ishiguro)
The Namesake (Jhumpa Lahiri)
Pachinko (Min Jin Lee)
Life of Pi (Yann Martel)
The Bonesetter's Daughter (Amy Tan)
The Goldfinch (Donna Tartt)
The Color Purple (Alice Walker)
House of Mirth (Edith Wharton)
The Age of Innocence (Edith Wharton)
The Book Thief (Markus Zusak)
Recommended short stories:
Additional recommended authors:
Jane Austen
Chimamanda Ngozi Adichie
Charlotte Bronte
Emily Bronte
Albert Camus
Willa Cather
Amit Chaudhuri
Scott Fitzgerald
Aldous Huxley
Henry James
Dinaw Mengestu
Daniyal Mueenuddin
George Orwell
Philip Roth
Mark Twain
Recommended sources:
Need more individualized advice?
The recommendations above are general suggestions. If you have specific questions, reach out to our experts here. We're happy to help in any way we can.
About ArborBridge
ArborBridge is the global leader in innovative, digital, one-on-one tutoring. With nearly a decade of experience teaching students online, ArborBridge supports students of all kinds: home schoolers, AP students, test preppers, and more. Our tutors specialize in creating personalized plans and in providing compassionate support for students and families.