For more, check out our full Coronavirus Resource Library at this link.
ACT has announced the first wave of July cancellations for U.S. students. Although the latest test center closures will affect a good number of students, the initial numbers look overall more promising than the June numbers did at the same point ahead of that exam.
July vs. June
ACT has emailed students whose tests have been cancelled, and a list of U.S. test center closures can be found here. Note: this list does not include sites remaining open while reducing their capacity, which means it's possible you may lose your seat even if your test center is not on the list.
Although ACT does not provide a similar list of international test center closures, international students should also expect to be notified of any cancellations by email.
An encouraging sign for students hoping their exams will move forward is that 84% of July test centers are currently estimated to remain open—a far higher percentage than the 33% that planned to remain open after the first wave of June cancellations.
A few state-by-state points of comparison: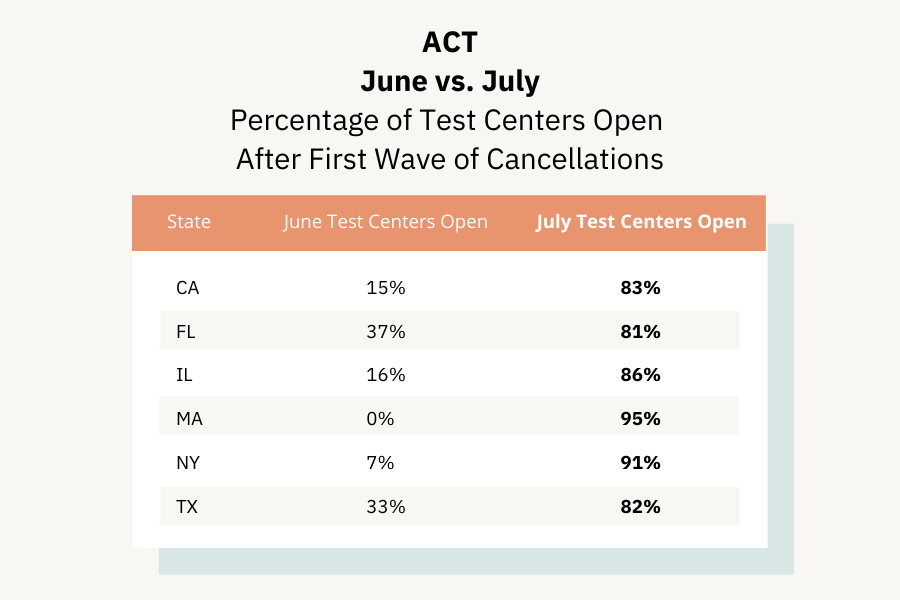 Keep in mind that many test centers have had to reduce their capacities due to social distancing guidelines, so they may have had fewer seats available from the get-go and/or displaced a number of students originally registered for the July exam. In cases in which test centers needed to reduce capacity, ACT has prioritized 12th-grade students and 11th-grade students before looking at the order in which students registered for the exam.
Next steps
Even if your test center is currently planning to administer the July exam, keep an eye out for last-minute changes. In June, some students were not notified of cancellations until the night before or morning of the exam, so it's a good idea to mentally prepare yourself for any scenario and regularly check both your email and the ACT website.
Otherwise, plan to sit for one of the fall exams. ACT recently added September and October test dates. Registration opens the last week of July.

In the meantime, we recommend slowing the pace of your prep or taking a break until late July in order to avoid burnout before you resume your regular study routine.
When you resume prepping for the ACT, you can aim for around 4-5 hours of prep per week (a mix of practice exams, tutoring, and independent study).
COVID-19 safety precautions and social distancing guidelines for the July exam
Test centers moving forward with the July exam will likely follow similar guidelines as those that administered the June exam, based on the coronavirus-related safety requirements and recommendations released by ACT. Here's what students can expect on test day, keeping in mind that each test center may follow a slightly different protocol according to local guidelines.
Test center requirements and recommendations
At a minimum, test centers are required to be disinfected prior to testing and must make hand sanitizer and sanitizing wipes available on test day. ACT's guidelines also recommend the following:
Helping students maintain six-feet distances at key locations (such as check-in) by placing signs on the floor
Speeding up the check-in process and preventing crowding by offering multiple check-in stations
Asking "health and wellness questions" to testing staff and test-takers on test day
Requiring staff to wear gloves and masks on test day (although these will not be provided by ACT)
Student requirements and recommendations
Even though ACT is not providing masks or gloves to staff or test-takers, students are encouraged to bring their own masks, gloves, and hand sanitizer, all of which may be subject to inspection.
At check-in, students will be asked to temporarily remove their masks for facial identification. Students will also answer a series of health and wellness questions as part of the check-in process. If a student answers "yes" to any of the following, they won't be permitted to sit for the exam:
Have you tested positive for the virus that causes COVID-19 in the last 14 days?
Have you had any of these symptoms in the last 14 days?

Fever greater than 100 degrees
Difficulty breathing or shortness of breath
Cough
Chills
Muscle pain
Sore throat
New loss of taste or smell

Are you experiencing fever, difficulty breathing or shortness of breath, a cough, chills, muscle pain, sore throat, or new loss of taste or smell at this time?
Have you been in close contact with someone displaying these known symptoms of COVID-19?
Have you been in close contact with someone diagnosed with COVID-19 or who has tested positive for the virus that causes COVID-19 in the last 14 days?
Have you traveled outside the country or to any high-risk locations in the last 14 days or been in close contact with someone who traveled to high-risk locations in the past 14 days?
For more details, check out ACT's FAQs here.
Need more individualized advice?
The recommendations above are general suggestions. If you have specific questions, reach out to our experts here. We're happy to help in any way we can.
About ArborBridge
ArborBridge is the global leader in innovative, digital, one-on-one tutoring. With nearly a decade of experience teaching students online, ArborBridge supports students of all kinds: home schoolers, AP students, test preppers, and more. Our tutors specialize in creating personalized plans and in providing compassionate support for students and families.